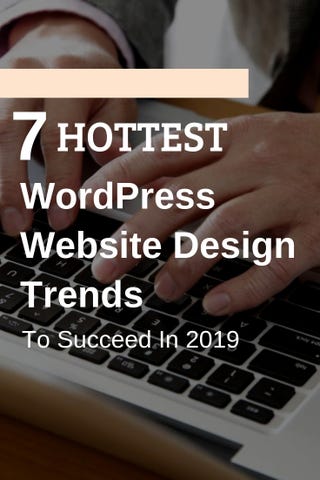 With 74.6 Million sites based on WordPress, it keeps on getting bigger and better. WordPress Web design is way beyond managing the colour schemes, layout and navigation, in order to understand the exact potion of creating an innovative and intuitive WordPress website, it is important to stay updated with the trends.
As we saw, WordPress always comes up with introduction of new features and improvements year and year. Let's take a look at, what it has new for us in 2019.
1. Videos
Video awareness is at an all-time high and is said to increase in the coming years.
Video headers one of the ways to get the most attention. It can affect the quality of your website by increasing the page load time and speed of your website.
A Video headers give a more engaging look to your website but you need to be careful while using them.
With version 4.7, WordPress has comes up with ability to loop video headers.
2. More focus on Mobile-Based Design
Two popular trends that will emerge due to the mobile-based designs are Accelerated Mobile Pages (AMP) pages and Progressive Web Apps (PWAs).
Google consider AMP pages as a ranking factor. This is partially because majority of the traffic now comes from mobiles, and partially because AMP pages are lighter and the only way to let users visit websites without waiting for everything to load.
To cater to this problem, A team of experts San Francisco Wordpress developers have now started making innovative mobile friendly WordPress themes that won't require the need of AMP at all.
3. Personalized Chatbots
Chatbots integrate with your CRM and help you provide a better user support. In the coming year, chatbots will become even more personalized.
By personalization, you will be able to know more about your user than the fact they are a random visitor. Also, if you are using a CRM like Salesforce, Infusionsoft or Active Campaign, you can also know if they've downloaded a lead capture, clicked on a certain promo or even interacted with your social channels.
4. Increased Emphasis on Animations
There was a time when flash-based animations made on macromedia were popular over the internet. But due to their limitations they faded. Now, they are returning thanks to improved HTML5 and CSS3, making user experience more vibrant and interactive.
Most sites have now started using particle animations, because these can be made easily in JavaScript, as many libraries exist.
Torquemag says most websites are now moving to particle animations because these are lightweight and can introduce movement to the back of a website without bogging it down.
5. Micro-Interactions Will Get Famous Again
Micro-interactions are small efforts to perform tasks on websites and usually take less than a micro second. These type of tasks are the life of most social media platforms. Consider 'likes' in Facebook, or 'hearts' in Twitter. Most news media websites have now started adopting this approach because it lets the user engage with the content with the least effort. Another example of this is Buzzfeed, where users can select from a number of emotions, and 'claps' on Medium that let the author know how many people praised his article.
In 2019, this trend will see a rise and more plugins will emerge for WordPress that the content creators can use in their websites for enhanced interactions.
6. Minimalism Evolved
Minimalist design has been gaining recognition among designers and visitors as well. With its sleek and comprehensive layout, it paves way for more traffic into the website. Minimalist design majorly focuses on simplicity and prominent highlighting. WordPress uses flat colours, transparancy, white themes, etc., in order to boost the simplicity of the websites.
7. High Saturation and Vibrant Colors
Bold colours and contrasting themes have become a common integration in almost every website. As visitors have different perceptions and reactions to contrasting colour schemes, it is important to select the theme wisely that can gain instant traction. WordPress sticks to the trend of using striking and appealing colours to make the website pop out and make way for a staunch clientele. These contrasting themes can also be complemented with gradients, patterns and textures. About 35% of all online platforms are built on WordPress making it one of the most popular and renowned website building platform.
Driving the targeted audience to your website and extending their visiting time. Our Wordpress website design company assist you, in turning leads into prospective clients. Our experts teams assists many companies in creating a distinctive place in the digital realm.